If this doesn't make you hungry, I don't know what will… full disclosure, you will want a baked good after reading!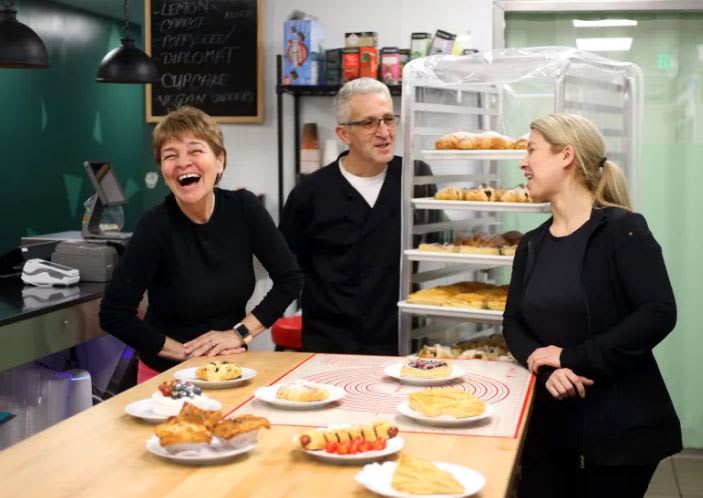 East Bay Bakery, Danville
Pastry chef and owner, Gaby Lubaba, offers an array of pastries and baked goods with some inspired by her Indonesian heritage. East Bay Bakery offers both savory and sweet options, but the crowd favorite of this establishment: The Croffle. Made from buttery croissant dough, the croffle ($5) has a crispy, almost caramelized outside leads to a chewy, satisfying interior that's buttery and not too sweet.
Details: Open 8 a.m.-2 p.m. weekdays and 9 a.m.-2 p.m. weekends at 6000C Crow Canyon Road in Danville. Also Saturdays at the Orinda Farmers Market and Sundays at the Walnut Creek Farmers Market; https://theeastbaybakery.com
LeLe Cake, Los Gatos
An electrical engineer by trade, owner Elena Leskina taught herself how to bake intricate desserts by watching YouTube videos during her young daughter's two-hour naps back in Moscow. She and her family immigrated to the U.S. five years ago before starting LeLe Cake, a cute cafe where brunch is as popular as the pastries and custom cakes.
The crowd favorite of this establishment: Leskina's version of the Medovik. The Medovik is a Russian honey cake layered with fresh raspberries and a light white chocolate and sour cream frosting. It's available by the slice (three layers) or as a full-size cake (five or six layers).
Details: Open from 8 a.m. to 6 p.m. daily at 14178 Blossom Hill Road, Los Gatos; https://lelecake.me/
Crumble & Whisk, Oakland
Owner Charles Farrier's foray into baking began by studying cookbooks, experimenting with different styles of cheesecakes, and then distributing them at barbershops and businesses along Oakland's MacArthur Boulevard and later at farmers markets. This December, he opened a brick-and-mortar location in the Laurel District, where he prepares not just the confection that put him on the map but scrumptious pastries, artfully decorated cookies and so much more.
The crowd favorite: The cheesecakes. These are cheesecake perfection, not dense but rather melting, creamy delights with seasonal surprises such as maple-pecan crumble or apple-cider cake.
Details: Open 8 a.m.-4 p.m. Tuesday-Friday and 9 a.m.-2 p.m. Saturday at 4104 MacArthur Blvd., Oakland; www.crumbleandwhisk.com.
Little Sky Bakery, Menlo Park
Owner Tian Mayimin, a self-taught baker, began by delivering her naturally leavened breads to neighbors around her Menlo Park home. Then she became the darling of the Peninsula and South Bay farmers market circuit with her creative lineup of loaves. Next came pop-ups. Soon she set her sights on a dedicated brick-and-mortar, newly located on Santa Cruz Avenue near the Caltrain station.
The crowd favorite: The Raisin-Walnut loaves with special mention going to the Provencal herbal flatbread called fougasse.
Details: Open from 8 a.m. to 4 p.m. daily at 506 Santa Cruz Ave. in Menlo Park, with a permanent indoor pop-up at State Street Market in Los Altos; https://littleskybakery.com/
European Delights, Walnut Creek
Since opening in July on Walnut Creek's east side, this bakery has become a haven for European expats and others craving Italian coffee and classic pastries. The Romanian co-owner and head baker, Rica Zaharia, greets customers with a smile and talks them through the day's fresh bakes.
The crowd favorite: The börek. This is a thin, flaky, phyllo-like pastry dough is filled with ham, vegetables, cheeses and other savory ingredients. The mushroom one has flecks of herbs and a distinct truffle flavor.
Details: Open 8 a.m.-4 p.m. Monday-Saturday and until 2 p.m. Sunday, at 2236A Oak Grove Road in Walnut Creek; https://european-delights.com.
Max's Cakes, Hayward
This classic, family-owned bakery opened five weeks ago and has already added much-needed pizzazz to downtown Hayward. Horchata cheesecake and café de olla and buñelo cupcakes, nods to baker Max Soto's Mexican-American heritage, line the pastry case alongside cookies and brick-sized slices of his Instagram-famous layer cakes.
The crowd favorite: Cake, any slice.
Details: Opens at 11 a.m. Wednesday-Friday and 10 a.m. Saturday-Sunday at 1007 B St., Hayward; https://maxscakesofficial.wixsite.com
Portuguese Tasty Desserts, Santa Clara
When Teresa and Nelio Defreitas retired from school district careers, they decided to revive her parents' Portuguese Bakery, which had previously been in business locally for more than 40 years. Their bakery now specializes in nostalgic Portuguese.
The crowd favorite: Biscoitos. These mildly sweet cookie rings come in almond, lemon, cinnamon, anise, chocolate and other flavors. Special mention to the pillowy Portuguese sweet bread, pastel de natas (custard tarts), rice pudding, flan, and malasadas
Details: Open from 8:30 a.m. to 5 p.m. Tuesday-Saturday at 1085 El Camino Real, Santa Clara; www.facebook.com/PortugueseTastyDesserts/.
Simurgh, Emeryville
Opened by daughter of Istanbul restaurateurs, Hatice Yildiz, who first received a PhD in religious studies from Berkeley before embarking on a career in baking. Here you feel find the Turkish classic, simit. This is essentially a bagel, crusted it in sesame seeds and stretched out. There's also charred-top rice pudding, baklava with homemade phyllo and imported "emerald" pistachios.
The crowd favorite: The Russian/Ukrainian honey cake. Made from homemade graham crackers, condensed milk and brown butter.
Details: Open daily from 10 a.m.-6 p.m. at 4125 San Pablo Ave. in Emeryville; www.simurghbakery.com.
Forest & Flour, Fremont
Do dietary issues keep you from enjoying most bakery treats? Bay Area residents rejoice! Owner Sway Soturi first made her mark at farmers market booths and now the San Jose wellness entrepreneur can offer a larger menu of organic and gluten-free, dairy-free, peanut-free, soy-free, and corn-free items to the masses at her new cafe in Fremont's Mission San Jose district. Also, pro tip, the cafe is located near Mission Peak and is a great place fuel for a trip up or recoup after coming down.
The crowd favorite: The aromatic Lavender-Lemon Bread with a side of locally made Rose Petal Jam.
Details: Open 9 a.m. to 5 p.m. Thursday-Friday and 7 a.m. to 5 p.m. Saturday-Sunday at 43587 Mission Blvd., Fremont; https://forestandflour.com/.
Bake Sum, Oakland
Joyce Tang left her job at Facebook for an internship at a three-star Michelin restaurant in Spain before returning to the Bay to open her own bakery. Here she now serves delicacies reminiscent of her childhood favorite's from Oakland's Chinatown.
The crowd favorite: The green-onion croissant. With its flaky exterior and soft interior, it is a blend of two styles of scallion pancakes from Northern and Southern China.
Details: Open 8 a.m.-2 p.m. Friday-Sunday and 8 a.m.-1 p.m. Thursday and Monday at 3249 Grand Ave. in Oakland; www.bakesum.com.
Source: https://www.mercurynews.com/2023/01/17/the-bay-areas-best-new-bakeries-from-los-gatos-to-danville-to-emeryville/?utm_email=E47C35C584E3241934C194B0C9&g2i_eui=&g2i_source=newsletter&lctg=E47C35C584E3241934C194B0C9&active=yesD&utm_source=listrak&utm_medium=email&utm_term=https%3a%2f%2fwww.mercurynews.com%2f2023%2f01%2f17%2fthe-bay-areas-best-new-bakeries-from-los-gatos-to-danville-to-emeryville%2f&utm_campaign=bang-mult-nl-wednesday-morning-report-nl&utm_content=manual