The long-awaited grand opening of Eataly Silicon Valley is here! The 3-story, all-in-one artisan market and restaurant space opens to the public at Westfield Valley Fair mall today, June 16th. The first iteration of this concept opened in Torino, Italy in 2007 and now the location in San Jose will be the 41st in the world.
Raffaele Piarulli, the chief operating officer of Eataly, expressed his excitement for the new location, stating, "For so many reasons this is the perfect place to open our next location […] The Bay Area has great (Mediterranean) weather, great produce and the people here want to learn about the culture."
Piarulli assures that each Eataly is different with its own character and theme, but with each location the goal is always the same: for customers to eat, shop, and learn about Italian culture. "You will see artisan products, you will see talent, you will see the action involved in producing and presenting food. Our kitchens will be visible. You will see how pasta is made, how bread is made."
From the San Jose Spotlight article on the grand opening:
There are two sit-down restaurants on the top floor of Eataly Silicon Valley: La Pizza & La Pasta and Terra.
La Pizza & La Pasta highlights Italian classics like the Neapolitan pizza cooked for 90 seconds in wood-burning ovens, and signature fresh pasta dishes like spaghetti al pomodoro made using three ingredients.
Terra is a rooftop restaurant and lounge inspired by the elements of earth and fire, where all dishes are cooked on a wood-burning grill. The restaurant highlights several types of gin where customers can build their own cocktail.
For quicker bites, the ground floor offers an eatery where customers can get gelato, freshly made tiramisu and cannolis, as well as street food favorites like the Roman Pizza alla Pala and Italian roasted coffee.
Eataly also creates its burrata and mozzarella cheese in house, along with fresh bread. It houses a large butcher with rare meats, local seafood and fresh produce from local farms.
The third floor of Eataly Silicon Valley has a vast collection of 10,000 high-quality food products from more than 2,000 regional Italian and domestic producers, with more than 100 varieties of olive oil, unique chocolates, sauces and pastas. It boasts more than 500 types of cured meats and cheeses —some hard to find outside of Italy like 18-month aged Parmigiano Reggiano.
With two restaurants, a
cafe
,
gelato
shop, an entire floor dedicated to Italian wines, a bakery, butcher,
seafood
counter and market stocked with thousands of imported Italian goods, there is no other food hall like it in Northern California. This incredible Italian food haven is sure to be an epic addition to the Westfield Valey Mall and will likely be a very popular destination! Be sure to check it out!
A complete breakdown of the space is included below along with operating hours:
First floor: The take-away eateries are situated on the ground level, giving customers easy access from the mall to Pizza alla Pala, with its flatbread pizzas made from stone-ground Piemonte flour and baked on paddles; Caffe Lavazza, the Torino espresso specialist serving glasses of bicerin (espresso, hot chocolate, whipped milk) and other coffee drinks; La Gastronomia, with grab-and-go dishes and pizza slices; La Pasticceria, featuring cannoli and tiramisu; and Il Gelato, with artisanal flavors made onsite.
Second floor: This floor is devoted to Eataly Vino, with 1,200 wines representing all 20 of Italy's wine regions, from the high-elevation Aosta Valley in the northwest to Calabria and Sicily in the south. Wine education classes will take place in La Scuola.
Third floor: This 30,000-square-foot floor is home to the two sit-down restaurants — the rooftop TERRA and La Pizza & La Pasta, both with bars — along with the fresh counters, the demonstration labs and that 10,000-product marketplace. Reservations for TERRA are filled up, but seating at La Pizza & La Pasta may be available.
Hours/details:
It's a 5 p.m. opening for Thursday only. Starting Friday, Eataly will be open daily with varying department hours.
First floor:
Caffe Lavazza and La Pasticceria, 8:30 a.m. to 9 p.m. Pizza Alla Pala, La Gastronomia and Il Gelato, 11 a.m. to 9 p.m.
Second floor:
Wine store, 8:30 a.m. to 9 p.m.
Third floor:
Eataly's marketplace has the longest hours, from 8:30 a.m. to 10 p.m. most nights, until 11 on Friday-Saturday. Fresh counters, 8:30 a.m. to 8 p.m.
Restaurants:
Terra, 5 to 9 p.m. most nights, until 9:30 Friday-Saturday. La Pizza & La Pasta, 11:30 a.m. to 9 p.m. most nights, until 9:30 Friday-Saturday. 2855 Stevens Creek Blvd., Santa Clara;
Eataly Silicon Valley: restaurants, marketplace and more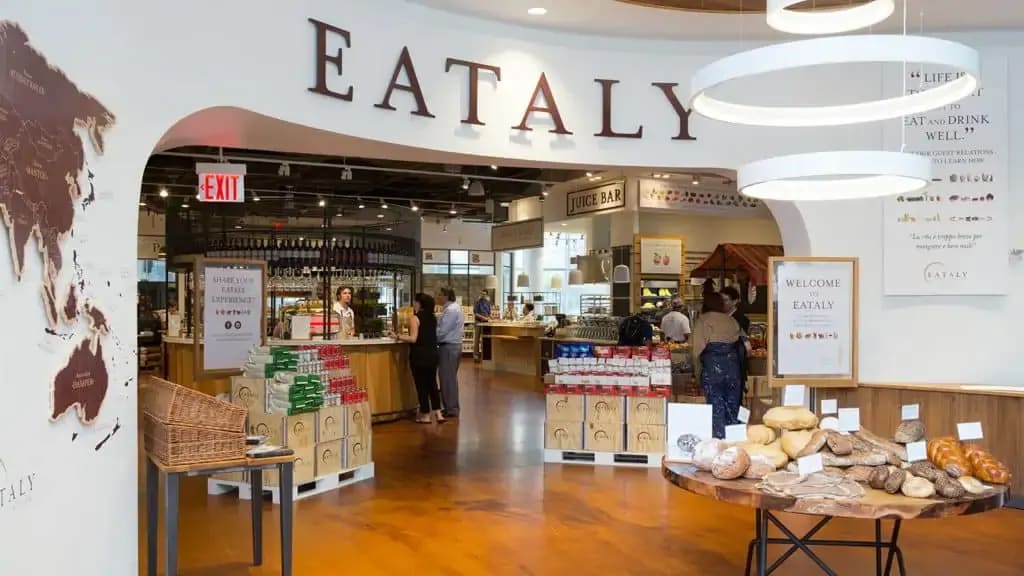 Sources: